The Comet's Tale
This module is a series of sections on the origin, characteristics, and history of comets, with accompanying animations. Instructions on how to "make a comet" in the classroom are also provided. An extensive glossary of comet related terms is included in conjunction with the descriptions.
Key Questions
1. What are the origins and nature of comets?
2. Do they have any effect on Earth and its inhabitants?
Learning Objectives
1. Students will know the histroy of human understanding of comets.
2. Students will know the physical origin and comparison of comets.
3. Students will know comet anatomy and the processes that occur near the sun.
4. Students will know the theory involving a large comet/meteor and the extinction of the dinosaurs.
General Subject Areas
Solar System, Comets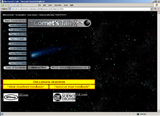 Author: CSE @ SSL
Student Activities
The lesson starts with a spectacular Gallery of recent comet photos. The History section invites students to consider their own knowledge and ideas as they trace the understanding of comets through time. Students use a navigation menu to study various aspects of comets- their origins, make up, characteristics, and orbits. The lesson includes instructions, for a hands-on Make a Comet activity. "Killer Comets?" - presents an investigation on the two leading theories of extinction of the dinosaurs. Students read the evidence and decide.
Student Prerequisites
Familiarity with basic solar system structure, planets and their orbits. Browser navigation skills.
Assessment
Student questionnaire
Extended Learning
-Extensive glossary linked to lesson pages
-"What's in a comet anyway?" interactive game
-Links to other comet-related sites
-Common vocabulary list for middle school readers
View Teacher Feedback
Send Us Your Feedback
Time Requirements
8-10 class periods; more for "Killer Comets" section.
Materials Required
-Browser enabled computers with Internet connection.
-Copies of student worksheets
-Ingredients and assembly tools for comets
-Safety equipment: Insulated gloves and safety glasses for working with dry ice.
-"Make A Comet" instructions pdf html
Required Plugins
N/A
Additional Resources
Lesson Plan
Subject Background pt I (html)
Subject Background pt II (html)
Subject Background pt I & II (pdf)
Subject Background pt III (html)
Student Worksheets
Homework Tasks
Extra on "Long Periods"
Word Search Puzzles
Flash Cards
Glossary (html)
Glossary (pdf)
Best For Grades
middle school
National Science Education Standards (NSES)
grades 5-8
State Science Standards
Grade 5 Earth Sciences
Grade 8 Physical Science
Grades 9-12 Earth Sciences
Have a science question? Visit our Ask an Expert page. Email questions or comments about SEGway resources to: outreach@ssl.berkeley.edu