Education News and Events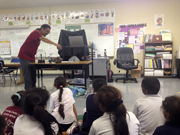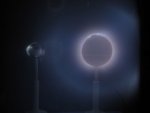 May 28, 2014: The THEMIS-ARTEMIS education team at UCLA were invited by Kelly Elementary Charter School in Compton CA to do a presentation about electricity and magnetism, and of course relate these to the Sun-Earth connection. Over one hundred K-5 students attended, and they enjoyed playing with the 3D magnetic field visualizations, ferrofluid, a plasma ball, and a simulated "aurora in a bottle" called the Planeterrella (designed by J. Lilensten, IPAG, France). They oohed and aahed at the glowing plasma spheres representing Earth and the Sun, and almost every kid had to be pried away to let the other students have their turn. The students and teachers asked many great questions about THEMIS and ARTEMIS, such as why space research need more than one satellite (to get large-scale multipoint observations), whether the satellites get "fried" in the solar wind wind (actually, small asteroids are more dangerous to spacefarers), and what other planets have magnetic fields and why/why not. Students and teachers were eager to learn more so the team shared fun resources such as the Sun Slider and Spaceweather.com, so they can keep up with the latest solar activity and space weather news. All in all it was a ton of fun working with such an enthusiastic young group, and we hope they all will enjoy learning more about STEM and possibly become space scientists in their future careers!
May 10, 2014: Emmanuel Masongsong of the THEMIS-ARTEMIS education team at UCLA was contacted by Ian Schofield of Athabasca University in Canada: Ian's group was purchasing UCLA magnetometers with which to significantly expand their network across the Hudson Bay in northern Quebec and he wanted outreach materials that would help share their research with the surrounding communities. He had done some presentations and realized how excited people were about their unique local science of the aurora. Ian is pioneering an outreach program at the new magnetometer sites, many of which consist of fly-in-only villages of Native peoples, and educating students and families all across Quebec who had never even heard of space weather. Emmanuel had compiled lots of THEMIS/ARTEMIS/aurora/reconnection videos and made posters and handouts which Ian could translate and adapt for his purposes. Excitingly, these materials will become trilingual, translated into Inuit and French, and presented all across Canada, bringing the story of THEMIS and ARTEMIS to the far reaches of North America! Thus, in addition to expanding the THEMIS ground-based observatory network, Ian and his group are actively engaging people in remote villages, schools and the general public about space weather and the importance of having widespread measurements of these elusive phenomena. Thanks for your efforts, Ian and Emmanuel!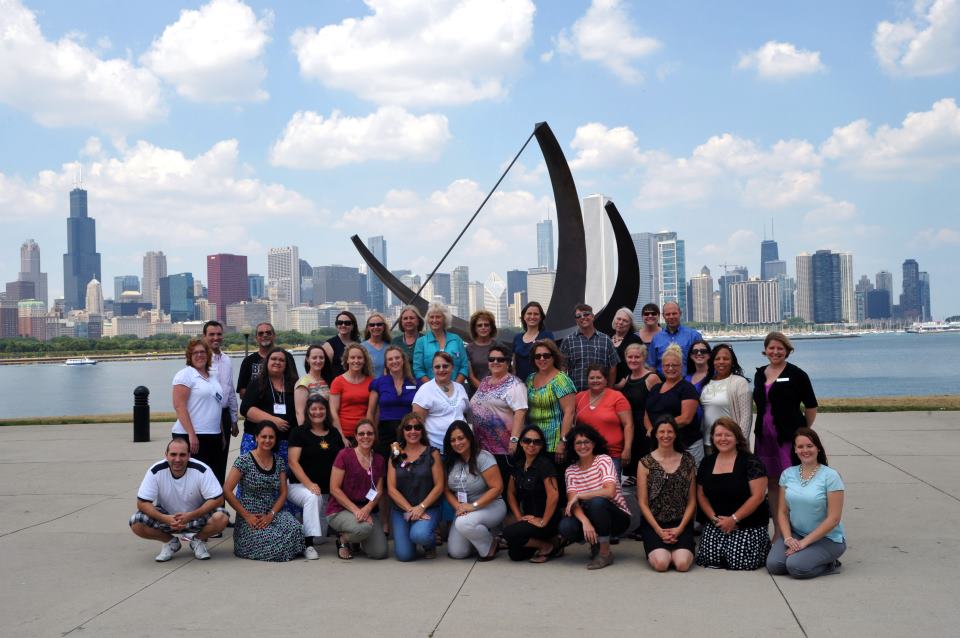 July 16 & 17, 2012: Twenty-six teachers gathered at the Adler Planetarium in Chicago, Illinois, for the Heliophysics Educator Ambassador (HEA) Reunion Workshop. This two-day workshop brought together teachers from each of the three previous HEA workshops which were held annually from 2009-2011. These teachers were selected to attend the reunion because of their commitment to bringing the latest Heliophysics mission news and education activities to their communities. This workshop was a joint effort between several NASA Heliophysics missions, including THEMIS-ARTMIS. Teachers learned the latest news about each mission, explored new educational resources and planned for the professional development that they will conduct in their communities. For more information about the HEA program, visit http://cse.ssl.berkeley.edu/hea/index.html.
April 21, 2012: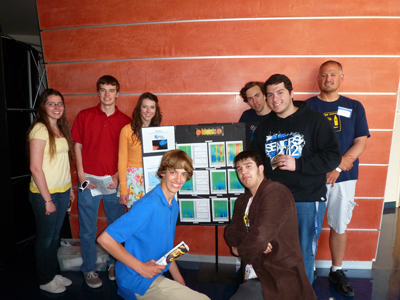 Space Sciences Laboratory opens its doors to the public on Cal Day. This once-a-year event includes free tours of the Mission Operations Center where satellites are monitored, science talks about on-going space missions, related fun hands-on activities developed by The Center for Science Education, Passport to Science @Cal, and a solar telescope.
In the photo, GEONS students from Tucson, Arizona present their data to the general public.
March 3, 2012: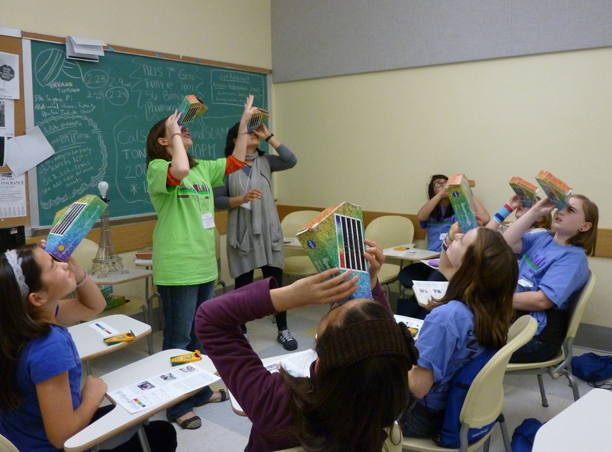 The THEMIS-ARTEMIS mission Education and Public Outreach team collaborated with UC Berkeley graduate students to participate in the first "Expanding Your Horizons" event held on the UC Berkeley campus. 45 middle school girls participated in workshops that included hands-on activities such as building spectroscopes.
February 25, 2012: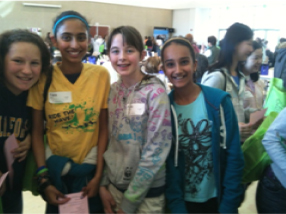 The Center for Science Education @ UC Berkeley enjoyed lively and rewarding interactions with girls on February 25 at the Career Day called "Expanding Your Horizons: Motivating Young Women in Science and Math." (San Ramon, CA). 300 middle school girls with a budding interest in space science visited our table for some hands-on exploration and conversations about science as a career.