Third From The Sun
Students learn about the history of Earth imaging, the Landsat satellite program. They develop interpretation skills as they play a game that involves inferring the subjects of various Landsat images.
Key Questions
1. Why did we as humans want to see the Earth from above?
2. What is the purpose of the LANDSAT satellite?
3. What can the LANDSAT satellite do?
4. What geographical features can be seen using the LANDSAT?
Learning Objectives
1. Students will have an understanding of the history and development of Earth sensing.
2. Students will be able to describe LANDSAT and its role in modern Earth sensing.
3. Students will be able to use knowledge of LANDSAT's capabilities to make reasoned inferences about the geographic locations show in LANDSAT images.
General Subject Areas
Earth Science, Space Science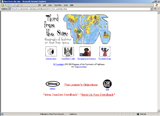 Author: Ronna Voorsanger
Student Activities
Students read illustrated pages about the history and development of remote sensing. beginning with man's efforts to see farther from the ground. Read about what LandSat is and what it can do. Image interpretation is introduced by a guided guessing game about the subjects of several Landsat images. They read correct answers, which address the logic required for making the right guess.
Student Prerequisites
Students need basic familiarity with using a web browser.
Assessment
The Landsat image activity is self-guided and self-assessed. Students or groups may be assigned to present various parts of the Earth sensing and Landsat material to the rest of the class, and assessed on their presentations.
Extended Learning
N/A
View Teacher Feedback
Send Us Your Feedback
Time Requirements
At least 1-3 hours for individuals or small groups.
Materials Required
-World map
-Globe
Required Plugins
N/A
Additional Resources
Teacher Lesson Page
Best For Grades
elementary school
National Science Education Standards (NSES)
grades K-4
State Science Standards
Kindergarden Earth Sciences
Grade 2 Earth Sciences
Grade 3 Earth Sciences
Grade 4 Earth Sciences
Have a science question? Visit our Ask an Expert page. Email questions or comments about SEGway resources to: outreach@ssl.berkeley.edu