Geography From Space
Students learn to examine and interpret images of Earth taken by satellites such as LANDSAT.
Learning Objectives
1. Students learn how to examine images of Earth to look for clues that indicate their location.
2. Students begin to understand the consistent interpretation of remote sensing images.
General Subject Areas
Geography, Space Science, Sattelites, Imaging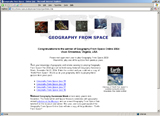 Author: Vicky Portway
Student Activities
N/A
Student Prerequisites
N/A
Assessment
This is a self-guided and self-assessed activity
Extended Learning
N/A
View Teacher Feedback
Send Us Your Feedback
Time Requirements
Approximately one hour prep time for the teacher and two class periods for the students.
Materials Required
-On-line computer access with WWW browsing capabilities.
Required Plugins
N/A
Additional Resources
N/A
Best For Grades
middle school
National Science Education Standards (NSES)
grades 5-8
State Science Standards
N/A
Have a science question? Visit our Ask an Expert page. Email questions or comments about SEGway resources to: outreach@ssl.berkeley.edu