Big Trouble In Earthquake Country
Use on-line earthquake hazard maps and other relevant geological information to assess hazards to life and property associated with hypothetical earthquakes. Students working in small groups use this information to develop strategies to reduce damage and loss of life in the area near their home or school. This lesson will help students gain a better understanding of the complex consequences of earthquakes for human beings.
Key Questions
1. What is an Earthquake?
2. How can maps and satellite images be used in assesing risk and damage?
3. Why is it important to develop strategies to reduce damage from Earthquakes?
Learning Objectives
1. Students will gain an understanding of the effect of earthquakes on natural and man-made systems.
2. Students will work in small research groups to develop strategies to reduce damage and the loss of life from Earthquakes.
General Subject Areas
Earth Science, Earthquakes

Selected by the SciLinks program, a service of National Science Teachers Association. Copyright 1999 - 2002.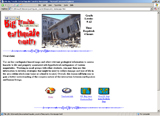 Author: Kevin Cuff
Student Activities
Students will browse through "Big Trouble In Earthquake Country" to learn the basics of Earthquakes and how to use geological data to assess and strategize against damage and the loss of life from Earthquakes. Studes will develop and present their strategies based on observations and conclusions made from geological data.
Student Prerequisites
Familiarity with any efficient web browsing tool, basic map reading capability, familiarity with local geography, basic understanding of geology, rudimentary understanding of earthquake mechanics.
Assessment
Students present their safety reports and plans at an earthquake preparedness seminar.
Extended Learning
N/A
Time Requirements
3-5 class periods, depending on student preparedness.
Materials Required
-Internet connected computer with WWW browser program.
-Geologic, city/street, and topographic maps of your area.
-Worksheets and handouts that you feel are appropriate.
-Ability to print html pages as text helpful.
Required Plugins
N/A
Additional Resources
Teacher Lesson Page
Best For Grades
high school
National Science Education Standards (NSES)
grades 5-8
State Science Standards
Grade 5 Earth Sciences
Grade 6 Plate Tectonics and Earth's Sturcture
Grade 8 Physical Science
Grades 9-12 Earth Sciences
Have a science question? Visit our Ask an Expert page. Email questions or comments about SEGway resources to: outreach@ssl.berkeley.edu