Solar Wind Science - 2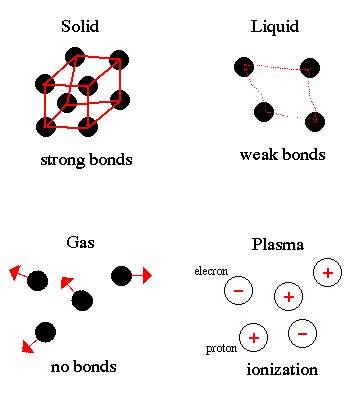 The solar wind is electrified. It is made up of ions and electrons. Ions have a positive electric charge, electrons have a negative electric charge. A mixture of ions and electrons is called a plasma.
Plasma: the 4th state of matter
Start with a solid.
Heat it up, and it turns into a liquid.
Heat it up more, and it turns into a gas.
Heat it up even more, the electrons and protons go their separate ways, and it turns into a plasma.
The solar wind is a plasma.
Why? The Sun is hot – it is hot enough to ionize gas and turn it into a plasma.

(Sonification of solar wind high energy electron data)
Download (.mp2, 98KB)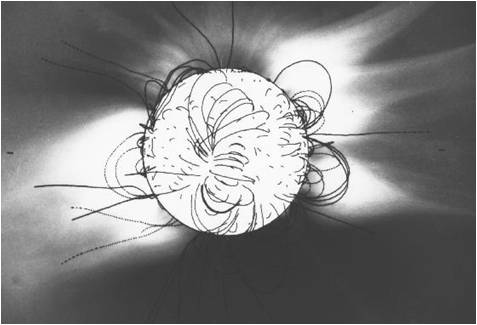 Just like Earth, the Sun has a magnetic field, but much more complex.
The solar wind is magnetic.
Magnetic fields are vectors - they have a magnitude and a strength.
Where the lines converge, the strength is higher.
Unlike solids, liquids, or gases, plasmas are stuck to magnetic fields (and vice versa).
As plasma flows away from the Sun, the magnetic field is dragged with it.
This magnetic field fills the space between the planets, so it is called the interplanetary magnetic field (IMF).

(Sonificaiton of solar wind magnetic field)
Download (.mp2, 98KB)
How do we measure the solar wind? With scientific instruments on spacecraft! The solar wind plasma instruments count the ions and electrons as they enter the instrument. The IMF instrument is a sophisticated compass that measures the strength and direction of the IMF. NASA's ACE, Wind and the two STEREO satellites all measure solar wind ions, electrons, and the IMF.
We have turned STEREO-measured solar wind ions and IMF into sounds. We hope that these sounds are both engaging and help you to remember this science.

(Sonificaiton of protons in solar wind)
Download (.mp2, 98KB)