SEGway home > for educators > space science > about Guest Investigator Puzzle > lesson summary
The Guest Investigator Puzzle
Grade Levels: 6th-9th
Time Requirements: Approximately 2 hours Preparation Time and 3-5 hours Class Time
Student Prerequisites:

Using a computer (Shrinking and moving windows, using a mouse to point and click)
Pattern matching
Graphing

Topics Covered by This Lesson:

Astronomy/Space Science: Star Types, Satellites, Data Analysis
Physics: Spectroscopy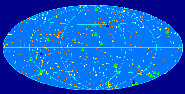 Brief Overview: After a brief introduction to astronomy (specifically stars) and the Guest Investigator program for the Extreme Ultraviolet Explorer (EUVE) NASA satellite, the students will conduct a brief astrophysics lab. This lab consists of matching the EUVE spectra of various kinds of "mystery" stars with the spectra of known stars taken at Extreme Ultraviolet (EUV) and optical wavelengths to determine their type.
Materials:

Any material using photos of satellites, planets and stars (See reference section).
One packet of handouts for each student (Masters for handouts are included in this lesson)
One computer for each group of four students.
Last Update: August 27, 2001
---
Copyright © 1995 -2001The Regents of the University of California
for permission, email outreach@ssl.berkeley.edu