Demonstration: Making a Pie Pan Speaker
by Regan Lum
---
Course: Physics or Physical Science
Grade Level: 9-12
Topic: Communication
Concepts:
A speaker is a device that converts electronic signals into sound. The speaker you will build (see figure 1) consists of a pie pan, a coil, a permanent magnet, and a signal source. The electronic signal goes through the coil and creates a varying electromagnet. The attraction and repulsion between the varying electromagnet and the permanent magnetic causes the pie pan to vibrate and produce sound.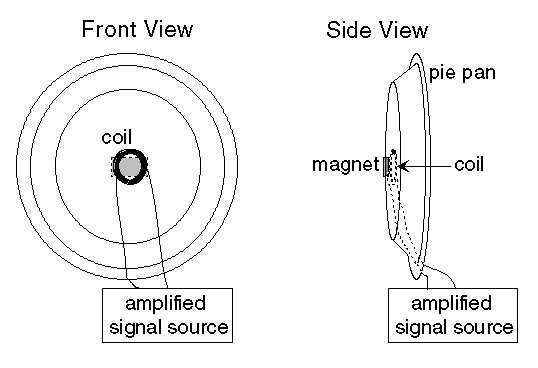 figure 1
Objective:
The students should be able to

Explain how a speaker works
Build a working speaker using a Stryofoam cup, wire, and a magnet.
Materials:
1 permanent magnet
1 coil of wire
1 pie pan
an amplified signal source
Preparation:
Build and test your demonstration pie pan speaker
This demonstration should be followed by the Making a Speaker Laboratory.
Assessment:
The lab report will be submitted.
The material will be included in quizzes and tests.
---
For more information, email your comments to outreach@cea.berkeley.edu or contact Regan Lum
---
All text, images, and other resources in this page are Copyright © 1995, The Regents of the University of California. All rights reserved. For permission, email outreach@cea.berkeley.edu


Return to CEA Science Education Home Page