SEGway home > for educators > space science > about Eyes in the Sky > lesson summary
Eyes in the Sky
by Bryan Yager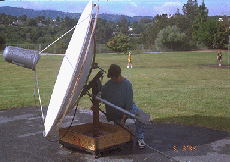 6th - 12th grades
Prerequisites:This lesson is designed for students who are taking industrial technology classes.
Time Requirements:
Full Unit: Approximately - Several Weeks
Topics Covered:

Description
Middle school students who are taking industrial technology classes (Itech students) will use technology to learn about orbiting spacecraft designed to study astronomical objects. Technological tools will include a Satellite Dish, VCR, the Computer Lab and a modem.
Objectives:
Itech Students will be able to:
Use the modem to download information about NASA missions.
Name and locate different types of the electromagnetic radiation.
Use the Satellite Dish to downlink an ongoing Space Transportation System (STS) Mission.
Use a CD to view HST Greatest Hits.
Identify solid/liquid fueled rockets using NASA educational software for MacIntosh computers.
Build and launch a rocket out of paper and tape and launch it within 5 ft. of a pre-defined target.
Unit Details
More Details On This Lesson:
Preparation
(Last Update: Aug 27, 2001 )

Center for Science Education


Science Education Gateway
---
Mail comments to outreach@ssl.berkeley.edu

© Copyright 1995, The Regents of the University of California.