Understanding the Birth of Stars and the Structure of Galaxies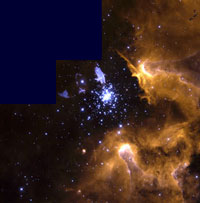 The ISM literally contains the seeds of future stars, and all the stars we see were once formed out the same kind of diffuse gas and dust. When the gas in the ISM cools and collapses, the gas forms clumps that can evolve into stars and planets. In fact, this is probably how our solar system was formed. One of the biggest puzzles in astrophysics is the process that turns this very diffuse, hot and cold gases and dust in the ISM into stars.
This photograph (right) taken March 5, 1999 by the Hubble Space Telescope captures various stages of the star life cycle. To the upper left of center is the evolved blue supergiant called Sher 25. Near the center is a starburst cluster dominated by young, hot stars. Dark clouds at the upper right are so-called Bok globules, which are probably in an earlier stage of star formation. The gold colored clouds are ionized hydrogen gas in the ISM.