Part C: What Kind of Ice?
Ice On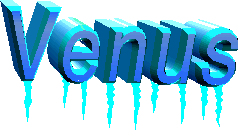 ??
Ice On Venus? Home Teacher's Page Table of Contents
Please discuss these questions with your classmates:
Could the white areas could actually be water ice?
If not, what might the white areas be? Some other kind of ice?
What other kinds of ice might there be that could exist on Venus?
After you have shared ideas, you may be interested
in reading this Article from Sky and Telescope magazine.
You may also be interested this NASA Press Release
about how radar imaging is being use to monitor volcanoes on Earth.

Please send questions or suggestions to:
SEGway outreach: outreach@ssl.berkeley.edu
Lawrence Hall of Science Home
Copyright © 1997 Regents of the University of California
Updated January 31, 2001