The Light Tour
A self-tutorial that introduces the electromagnetic spectrum through the concepts of wavelength and amplitude. Students learn to associate various wavelength ranges with different spectral bands, and can explore images from space astronomy missions in each band.
Key Questions
1. What are the properties of light?
2. What is the difference between wavelength and amplitude
?3. What can astronomers see using different spectral bands?
Learning Objectives
1. Students will know the wave-like character of light.
2. Students will know the characteristics of different spectral bands.
3. Students will know the eight (8) types of electromagnetic radiations by wavelength.
General Subject Areas
Atmospheric Science, Space Physics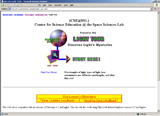 Author: Robyn Battle
Student Activities
Students will explore the basic properties of light through a web-based tutorial. Students will be encouraged to guess the angstrom of relating types of light and then research and document everything learned about each type of light.
Student Prerequisites
Browser skills, number manipulation, ability to search the web and do library research.
Assessment
Student questionnaire
Answer key
Worksheet: Wavelength form
Worksheet: Electromagnetic Spectrum
Extended Learning
Wavelength form and chart for making diagrams of the spectrum and labeling different spectral bands.
View Teacher Feedback
Send Us Your Feedback
Time Requirements
1 hour prep time; 1-3 class periods. Students do research outside of class.
Materials Required
-Internet connected computer with WWW browseing capabilities
-Ability to print html pages as text
-EM Spectrum worksheets )masters provided)
Required Plugins
-RealPlayer
-QuickTime
Additional Resources
N/A
Best For Grades
middle school
National Science Education Standards (NSES)
grades 5-8
State Science Standards
Grade 5 Earth Sciences
Grade 7 Life Science
Grade 8 Physical Science
Have a science question? Visit our Ask an Expert page. Email questions or comments about SEGway resources to: outreach@ssl.berkeley.edu