SEGway home > for educators > space science > about Light Tour > Light Tour
(CSE@SSL)
Center for Science Education @ the Space Sciences Lab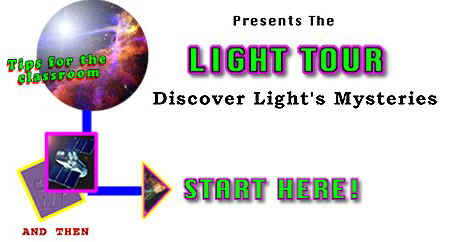 | | |
| --- | --- |
| Find Out About: | Wavelengths of light, types of light, how astronomers use different wavelengths, and what they see! |
---
This web site is compatible with all versions of Netscape 2.0 and higher. This site will also work using Microsoft Internet Explorer versions 3.0 and higher.

This lesson has won an L.A. Times Launch Point Award!

Center for Science Education

Science Education Gateway

Copyright © 1996--2001 The Regents of the University of California. Created by Robyn Battle.