SEGway home > for educators > solar system >about Take A Spin > lesson summary

Take a Spin Through the Solar System
by Kevin McCarron and Ginger Privat with additional authoring by Nellie Levandovsky
Grade Levels: 7th - 12th grades
Prerequisites:
Students should understand concepts dealing with basic physics and math including the concepts of ratio, angular velocity, and measurement of an arc in a circle.
Time Requirements:

Full Unit: Approximately - Several days to two weeks

Subjects/Topics:

Astronomy/Space Science: Solar System, Planetary Rotation
Physics: Angular Velocity, Period of Rotation, Orbital Motion
Math: Angles, Angular measurement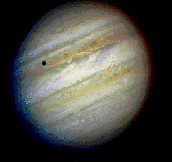 Description:
Have you noticed how many things around you rotate? In this unit we are going to investigate how different planets, and even the Sun, rotate around their axes. We will base our research on the textual and visual information from the INTERNET.
Unit Features: This lesson plan features comparisons of images for 3 planets (Jupiter, Uranus, and Saturn) and the Sun. This lesson also includes a movie of Saturn and explanatory text (warning: the movie takes a long time to download and causes higher blood pressure if you're in a hurry).
In this unit we offer two areas. The first area is where students should go to find a self-study guide for doing their research. It is also where the NASA images are located and where students can do some real "cyboscience".
The second area is for teachers. That's where the lesson plan ideas and teaching suggestions are. Make your choice below.

Students click here


Teachers click here
---
(Last Update: Aug 27, 2001 )

Center for Science Education


Science Education Gateway
Mail comments to outreach@ssl.berkeley.edu

Copyright © 1995, The Regents of the University of California.