Movies and Simulations - All-Sky Movie Tutorial
The THEMIS All-Sky cameras, based here on Earth, take images and movies of the Northern Lights by looking up into the sky from horizon to horizon. The cameras take images and movies in black and white, gathering all the visible light from the aurora that they can. In this way, they can record even very faint aurora that our eyes cannot see.
These cameras are being placed in 20 locations, spread out across Canada and Alaska, where the Northern Lights are most likely to be seen. The images from the first All-Sky Camera deployed by THEMIS are shown below on this page. See the Canadian THEMIS web page for more information about these cameras and their future locations.
A collection of ground-based All-Sky Imagers (ASI) makes an important component of the THEMIS mission in understanding the interaction of the magnetosphere and aurora. It is sometimes referred to as the sixth THEMIS satellite. Descriptions of the instruments are available on the THEMIS-Canada Home Page. Imagery from each camera is co-registered to the surface of the Earth and assembled into a view of the auroral events. This movie presents data from the first large auroral substorm since the THEMIS launch. The substorm reached its maximum between 6:00 and 7:00 UT. This movie was provided courtesy of the Goddard Space Flight Center's Scientific Visualization Studio.
Requires: Quicktime
Filesize: 640K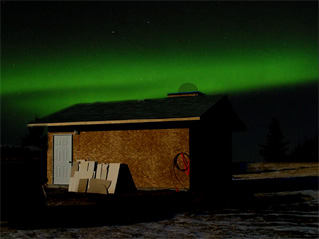 The one All-Sky camera operating right now is in Athabasca, Canada. Here we see an aurora in the background of the house where the camera is located. On top of the house is a tiny dome, out of which the camera is peering and recording the aurora overhead. This movie was provided courtesy of the University of Calgary THEMIS team.
Requires: Quicktime
Filesize: 640K
>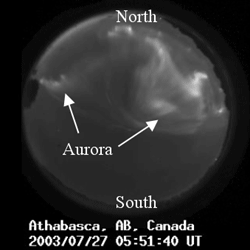 Aurora as viewed from the All-Sky imager in Athabasca in Canada. A "break-up" aurora has occurred suddenly after dusk. This movie was provided courtesy of the University of Calgary THEMIS team.
Requires: Quicktime
Filesize: 1.48MB