Classifying Galaxies
What is a galaxy? Use the Hubble system to learn how galaxies are classified. Learn more about galaxies and think about how scientists classify objects in nature.
Key Questions
1. What is a galaxy?
2. How are galaxies classified?
3. What is a tuning fork diagram?
Learning Objectives
1. Students will describe galaxies in general and the different types used in the Hubble classification system.
2. Students will use the Hubble system to classify a new galaxy image.
3. Students will demonstrate an understanding of what classification and morphology means as they relate to science.
General Subject Areas
Astonomy, Space Science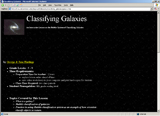 Author: George Hastings, Jane Hastings
Student Activities
Students examine images of galaxies and learn to recognize the various shapes used in the Hubble classification system. They can follow the site independently, using a worksheet that prompts them to answer questions in the text, then take a java "quiz" that requires them to place various galaxies in their correct positions on the Hubble "tuning fork." There is some supplemental material about galaxies and Hubble's observations.
Student Prerequisites
Browser skills, basic astronomy vocabulary, 5th grade reading level.
Assessment
Student questionnaire
Answer key
Worksheet
Extended Learning
Available on lesson plan pages as "related lesson plans" - includes lessons that encourage students to continue to explore galaxies and classify them according to the techniques learned in this lesson.
View Teacher Feedback
Send Us Your Feedback
Time Requirements
Approximately two hour sprep time for the teacher and two class periods for the students.
Materials Required
-On-line computer access with WWW browsing capabilities
Required Plugins
-Java
Additional Resources
Teacher Lesson Page
Best For Grades
middle school
National Science Education Standards (NSES)
grades 5-8
grades 9-12
State Science Standards
Grade 5 Earth Sciences
Grades 9-12 Earth Sciences
Have a science question? Visit our Ask an Expert page. Email questions or comments about SEGway resources to: outreach@ssl.berkeley.edu