About Michelle Nichols
Master Educator for NASA Forum Programs at The Adler Planetarium in Chicago, Illinois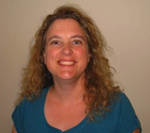 Michelle Nichols has been employed by the Adler for 15 years and earned a Bachelor of Science degree in physics and astronomy from the University of Illinois at Urbana-Champaign and a Master of Education degree in Curriculum & Instruction from National-Louis University. Ms. Nichols' previous experience includes positions at U.S. Space Camp, the Staerkel Planetarium at Parkland College in Champaign, Illinois, and the Astronaut Memorial Planetarium in Cocoa, Florida.

At the Adler Planetarium, Ms. Nichols has been a member of staff teams to develop, implement, and evaluate planetarium shows, exhibits, special educational events, sky observing events, teacher workshops, floor demonstrations and activities, volunteer training programs, and more, programs that have collectively served hundreds of thousands of casual visitors, school groups, and others. The topics of these programs have ranged from astronomy and physics, the history of astronomy, space exploration and manned spaceflight.

Ms. Nichols' current position involves working with three NASA programs, including the Interstellar Boundary Explorer (IBEX) spacecraft mission education and public outreach program, and the Heliophysics and Astrophysics Education and Public Outreach Forums.
Address
1300 S. Lake Shore Drive, Chicago, IL 60605

Phone: (312) 322-0520

Email: mnichols@adlerplanetarium.org