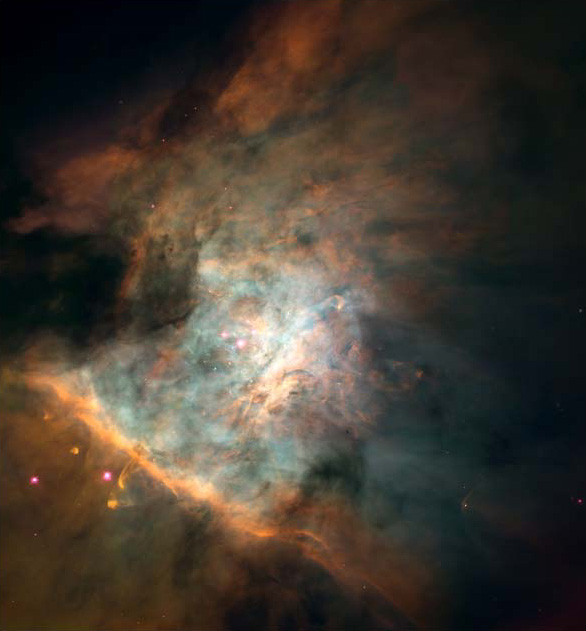 Figure 1: The Orion Nebula. Visible in the winter evening skies as the middle star of Orion's sword, this star-forming region is 1,500 light-years away and 26 light-years across. This image is of the central 2.5 light-year region.
The Interstellar Medium
The vast spaces between stars in a galaxy is not completely empty, it is sparsely sprinkled with gas and dust. This 'stuff' between the stars is known as the Interstellar Medium. About 99% of the ISM is hydrogen and helium gas; the remaining 1% consists of gases and dust of heavier elements. The gas is extremely dilute, with an average density of about 1 atom per cubic centimeter. The air we breathe is approximately 30 quintillion (30,000,000,000,000,000,000) times more dense than the ISM. Picture this: an "empty" coffee mug in the ISM would contain about 500 hydrogen atoms. The same "empty" coffee mug sitting on your desk contains about 1,500 quintillion (1.5 x 1021) gas molecules - mostly nitrogen, oxygen, and carbon-dioxide. The typical density of the dust in interstellar space is even less than that of the gas. In one cubic kilometer of interstellar space you would find, on average, only 1,000 grains of dust. So, while the space between stars is not a perfect vacuum, it has a density about one trillion times less than the best "hard vacuums" ever created in laboratories on Earth. At such low densities, it may seem to you that the ISM is barely there at all. But remember, space is huge. All that matter adds up in the vastness between the stars. For example, the inner 16 light-years of the Orion Nebula contains enough mass in gas and dust to make up more than 300 Suns.