High School Friends
---
TCHS Bands
At the National Festival of Bands...in Toronto? (1990)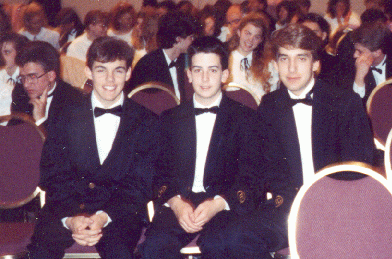 Rudy, Carlie Risk, and Me getting ready for the Symphony Band Perfomance. Symphony Band took first place in all categories.

TCHS Jazz Ensemble under the direction of John Campbell. We also cleaned up in the competition.
---
Europe '91
In the summer of 1991 I was with a large group of high school and college music students primarily from Traverse City, Michigan that toured Europe as the Michigan Ambassadors of Music. It was a trip to be remembered.
Here we are pointing to Elvis (don't ask)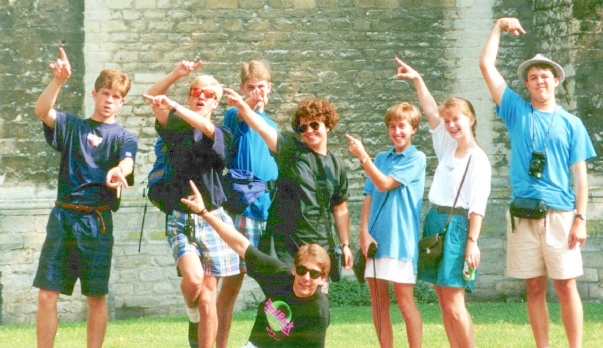 (from left to right) Chad Boone, Ryan Plum, Aaron Heidel, Chris Schmidt, Erica Hansen, Lisa Underwood, Sven Sawin, and that's me in front.
| | |
| --- | --- |
| So what exotic foods did we eat in London? Pizza Hutt. | Here's our Jazz Band playing in Paris. That's Jenny Callahan (trumpet), Sven Sawin (trombone, left), Chad Bigelow (trombone, right), and me (saxophone). |
Here we are in Zermat, Switzerland.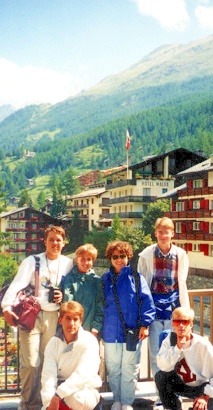 ---
Toronto, Senior Trip
For our spring break in 1992 we went to Toronto.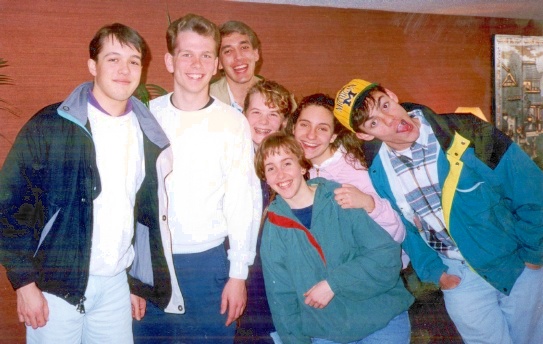 (left to right)Sven, Chad Bigelow, Lisa, Karen Mueller, Brian Ross, Erica (in front), and me (in back)
---
High School Graduation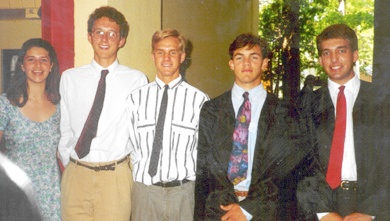 Jenny Callahan, John Stephens, Ryan Plum, Brian Ross, Me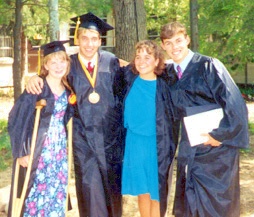 Lisa, Me, Chris, and Brian
---
Sonnet

Shall I compare thee to a wacked-out day?
Thou art more impacted and more dreamy:
Well sorry, you must be hating life, eh;
Sucks for you, cumchabi, bring her to me.
Pooh Bear and his mighty rifle does know,
That she gave us a heart attack ak ak.
Yes, you are correct, Sir, De Mike de snow;
Except you're not, if Bij is on your back.
She leased a building with a holy cat,
Strike one! D'oh! You did it, you dumb monkey,
Yet still Heidi says, "I did not know that",
'tis locical that long life come to thee.
We are the ones that music doth define.
Merry Christmas, from where the sun does shine.
-Bryan Méndez (1992)
---