Katy Maclean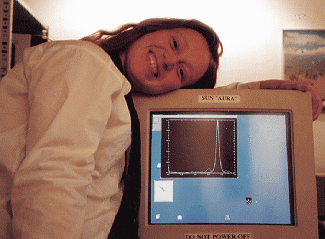 "Stop taking the piss"
---
University: Cambridge University
Major(s): Mathematics
Year:
Birthday: August 15th, 1976
---
STScI Advisor: Bill Sparks
My work this summer:
1. Single-handedly balanced the budget of Brazil
2. CENSORED BY KATY
3. Did my bit to open the eyes of the masses to the one true faith
4. CENSORED BY BRYAN (HA HA)
5. Found one of my spiritual homes in Manhatten.
6. Modelled the optical synchrotron jet from 3c346 as a precessing helix. (I Don't know what that means either) I do equations, real-world stuff tends to confuse me.
---
Current Status:
UNKNOWN
Last Known email: cfm20@cam.ac.uk
---