Ice On Venus??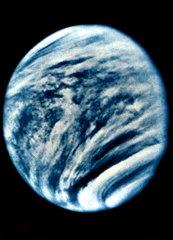 Here are a few ideas for physical conditions on Venus that you probably need to find out before you can answer the question, "Is there ice on Venus?":
temperature
atmospheric pressure
composition of atmosphere.
Some details you may need to know about temperature and pressure:
for atmospheric pressure, the unit 1 bar = average pressure at sea level on Earth.
for units of temperature, if its given in degrees Kelvin (K), you can convert to Celsius by subtracting 273. To convert Celsius to Fahrenheit, multiply the Celsius degrees by 9/5 and add 32.
Go to Table of Contents
Go to Part A: What's It Like on Venus