The Great Satelite Search
In the Satellite Presentation Project, students find information on the Internet and make a presentation to the class on an astronomy satellite mission. This lesson plan is designed to teach the students how to use the computer and the Internet to research, organize, and present information.
Key Questions
1. What types of satellites are being used by NASA today?
2. What types of technology are being used on satellites?
3. How do satellites help NASA understand space?
Learning Objectives
1. Students will organize information and make a presentation on a satellite to the class.
2. Students will disucss the capability of leading edge technology for satellites.
3. Students will use modern technology in the classroom to make an effective and informative presentation.
General Subject Areas
Technology, Astronomy, Space Exploration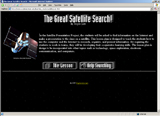 Author: Regan Lum
Student Activities
Students use search engines and links to satellite sites to prepare an individual or group report on a satellite mission. Then each group presents its report jigsaw-style.
Student Prerequisites
Basic Internet browser navigation skills. Lesson includes an Internet research tutorial.
Assessment
The author recommends assesment by student presentations and written reports. Grade student presentations based on the following criteria: preparation, clarity and effectiveness of the presentation; effectiveness of visual aids and handouts used. Written reports should be supplemented with the following: outline of presentation (may be the same as handout); research log (title and address of all information used); printouts of information used.
Extended Learning
Available on lesson plan pages- students are encouraged to explore other forms of technology used to explore space.
View Teacher Feedback
Send Us Your Feedback
Time Requirements
3 to 4 weeks when intermixed with other related activity.
Materials Required
-Internet connected computer with WWW browser program
-Ability to print html pages as text is helpful
-Handouts (provided
-Computer application programs for formatting presentations.
-Assignments Handout
-Research log form
Required Plugins
-Java
Additional Resources
Lesson Plan
Best For Grades
high school
National Science Education Standards (NSES)
grades 9-12
State Science Standards
Grade 8 Physical Science
Grades 9-12 Earth Sciences
Have a science question? Visit our Ask an Expert page. Email questions or comments about SEGway resources to: outreach@ssl.berkeley.edu