Exploring The Planets
Students take an electronic tour of the "Exploring the Planets" gallery at the National Air and Space Museum in Washington, DC. The Gallery features exhibits on topics such as how the planets were discovered, comparative planetology, and include many high-quality planetary images.
Key Questions
1. What are the similarities and the differences between the planets in our solar system?
2. What tools are used to explore the planets?
3. Who first began to discover our solar system?
Learning Objectives
1. Students will be able to compare the planets in our solar system.
2. Students will be learn the history of planetary exploration.
General Subject Areas
Solar System, Planets, Space Exploratio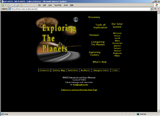 Author: Maureen Kerr, Priscilla Strain, Vicky Portway
Student Activities
Students will be required to navigate through the website and obtain basic planetary data from planets in our solar system. Students will also be required to learn about the early history of planetary exploration and the technology we use today to explore the depth of our solar system.
Student Prerequisites
Internet and browser navigation skills
Assessment
Individual students or groups "tour" different parts of the exhibit and then act as guides for others. Instructor evaluates students' ability to explain the exhibits and guide their peers.
Extended Learning
N/A
View Teacher Feedback
Send Us Your Feedback
Time Requirements
This is a self directed activity. Exploring the entire resource may take up to three hours. Add time if students are to prepare reports or presentations.
Materials Required
-Internet connected computer with WWW browser program
-Ability to print html pages as text is helpful
Required Plugins
N/A
Additional Resources
N/A
Best For Grades
middle/high school
National Science Education Standards (NSES)
grades 5-8
grades 9-12
State Science Standards
Grade 5 Earth Sciences
Grade 8 Physical Science
Grades 9-12 Earth Sciences
Have a science question? Visit our Ask an Expert page. Email questions or comments about SEGway resources to: outreach@ssl.berkeley.edu