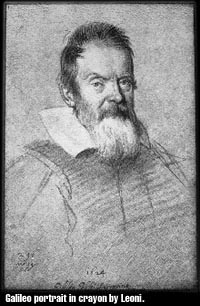 Galileo Galillei (1564-1642)
was one of the greatest mathematicians and astronomers of all time. Born in Pisa on February 15, 1564, his work radically altered the scientific landscape of his time, setting the stage for much of modern science. By improving the telescope, and by using it to observe the heavens, Galileo amassed evidence for the Copernican idea that the earth revolves around the Sun, and that the earth is therefore not the center of the universe. His bold advocacy of the Copernican theory was a challenge to the accepted thought of the time, and ultimately Galileo was tried as a heretic by the Catholic Church. He was forced to recant his views, and he spent the last eight years of his life under house arrest.
Observe sunspots now
You can use this method to see sunspots for yourself. Be aware that viewing the Sun directly (either with the naked eye or with a telescope) is extremely dangerous. Galileo had to be careful to observe the Sun only very close to sunrise or sunset, but you can use this method to observe the Sun anytime.*
The safest practical way to see the sun is by lining up a telescope or binoculars on the sun, but instead of looking through the eyepiece, hold a sheet of white paper behind the eyepiece. The solar image is seen projected onto the paper, and you can safely look at it there.

You will need binoculars or a telescope, a camera tripod, a piece of paper or cardboard to create a shadow, a piece of white paper on a clipboard, or poster board, for a screen to project the image on to, and duct tape to hold all the parts in place.

1) Firmly fix the binoculars to a tripod. You can do this with duct tape.
2) Cut a shield out of cardboard and tape it to the front of the binoculars with the lenses sticking through holes that you cut.